Orton's treatment results for artificial joint replacement surgery have been monitored on a patient-by-patient basis since Finland's first artificial joint replacement surgery was performed in the hospital in 1967. Finland's national artificial joint register was started in 1980 and Orton's own register, which collects information in more detail, was launched in 1989.
In addition to being an important source of information for scientific research and treatment development conducted at Orton, monitoring data are also an excellent way to monitor and report on the quality of care in our hospital.
Prosthetic joint infections
Artificial joint replacement surgeries are major surgeries that, similar to other surgeries, are associated with a risk of infection or inflammation. Infections after artificial joint replacement surgery are difficult to treat, because antibiotic treatment alone is often not enough to cure the infection. In addition to long-term treatment with antibiotics, 1–2 extensive surgeries are often required in order to treat a prosthetic joint infection.
The number of prosthetic joint infections in our hospital is clearly lower than the average level in Finland. Preventive risk assessment related to the patient's general condition and underlying illnesses, risk minimization, good treatment guidelines, a surgery unit used purely for so-called clean surgery, skilled surgeons and nursing staff and, of course, patients who actively participate in their recovery, are all essential factors in success.
Table below:
In Orton, there are clearly fewer prosthetic joint infections than on average.
Orton (blue) vs. mean figure (orange) of all hospitals in Finland.
Source: National Institute for Health and Welfare's table from the Finnish Hospital Infection Programme (SIRO) register for 2011–2015.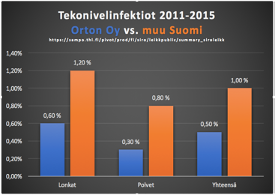 Reoperations
In Orton, the need for revisions of artificial joint replacement surgeries is among the lowest in our country. The same elements that are important in infection control are also important in controlling the risk of reoperations. Linked to a good treatment process and precise surgical activities, active rehabilitation guidance will help in achieving excellent outcomes both in statistics as well as on a personal level.
Table below:
Need for reoperation procedures in artificial hip joint replacement surgery.
In 1-3-5 years from the primary operation.
Orton (red) vs. the mean figure of all hospitals in Finland (blue).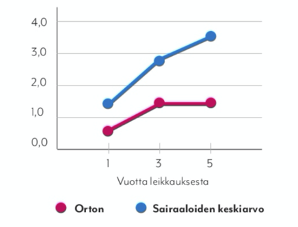 The hospital-specific numbers of artificial hip and knee replacement surgeries and the need for reoperations can be reviewed nationally in the Finnish Arthroplasty Register maintained by the National Institute for Health and Welfare.